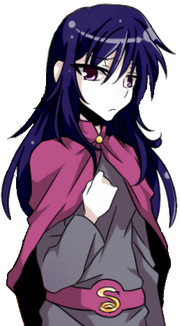 Raven Darkstar is a freshman student from Iris Academy in Snake Hall. She may or may not be a vampire, she certainly looks like one according to the PC, and she seems to be a very convincing actress if her practising in the halls by quoting Shakespeare being mistaken for real sadness by the PC is any indication fo her talent. She's naturally a part of the drama club, and you first see her in the freshman orientation and hear her speak in the first Black magic class that you take.
Ad blocker interference detected!
Wikia is a free-to-use site that makes money from advertising. We have a modified experience for viewers using ad blockers

Wikia is not accessible if you've made further modifications. Remove the custom ad blocker rule(s) and the page will load as expected.