When you go to the mall you have the option of going to The food court which has a small list of food to choose from that reduce stress depending on what you choose. Going to the food court at specific times can trigger events.
Food available
Edit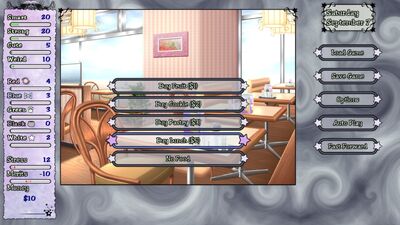 The 'pastry' option will disappear in the second semester unless you choose to eat there several times earlier, because the business closes for lack of customers.
Fruit ($1) reduces stress by five.
Cookie ($2) reduces stress by five.
Pastry ($3) reduces stress by five.
Lunch ($5) reduces stress by ten.
(needs finishing)