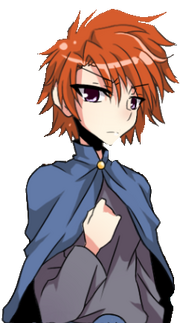 Angela Kirsch is a senior in Iris Academy in Butterfly Hall. She seems to have been in a romantic relationship with Damien and William, breaking up in a rather public way with Damien and being so abusive to William that after he broke up with her he may have sworn off women forever (according to Virginia). She's a rather rude woman, she also has quite the ego, always acting like she's better than everyone else and more often than not always making fun of the PC in some way, shape or form. Her mean streak is as wide as she is long, she seems to have enjoyed putting Ellen through her paces in the Initiation. She was also cruel enough (if your character was forcibly married to Grabiner) to imply that you had slept with your teacher to get your grades (never mind the fact that Iris Academy doesn't subscribe to grading systems to measure a student's academic progress).
She's disliked by most of the characters in the game, even Damien said that his dating her was a mistake, for obvious reasons.
Ad blocker interference detected!
Wikia is a free-to-use site that makes money from advertising. We have a modified experience for viewers using ad blockers

Wikia is not accessible if you've made further modifications. Remove the custom ad blocker rule(s) and the page will load as expected.